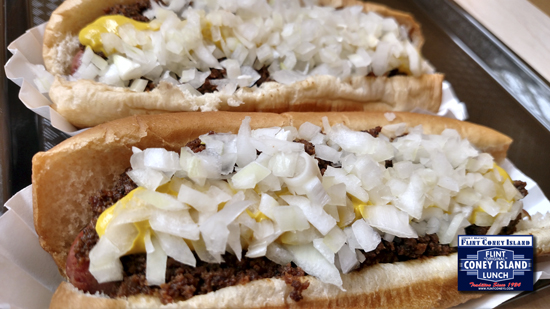 If you know someone from the Midwest and you offer them a chili dog somewhere, you might hear a response similar to "Well it's not a coney, but alright." If you're the person from the Midwest in that conversation, you'll know there's nothing that can replace the coney you know and love. It has to have the "snap" of the natural lamb or sheep casing on a properly-grilled German "coney dog", which is a variation of the European-style Frankfurter Würstel or Vienna sausage. The coney has to be topped with a flavorful meat topping having the memorable flavor of ground beef heart and maybe ground beef along with some other organ meats (depending on your style and/or restaurant of choice), cumin, and paprika. And purists always have that meat topping garnished with a couple lines of good yellow mustard, and onions minced to be silky smooth.
If you're the kind of person who gets deeper into this sort of thing, you'll know there are three basic coney varieties in Michigan: The dry-sauced Jackson Coney, developed by George Todoroff in about 1914; The juicier-sauced Detroit Coney, developed by someone at either of the side-by-side American or Lafayette Coney Islands (there are too many versions of the story to sort out) in about 1917; And of course the Flint Coney, with the Flint Coney Island restaurant opening south of the Flint River at 202 S. Saginaw St. in 1925. (the year it first showed up in R.L. Polk & Co.'s Flint City Directory was 1926.)
In early January 2021 after an online comment claimed Lafayette Coney Island in Detroit had stopped using beef heart in the 1960s, I emailed the store and asked. The answer was that they do not use beef heart there. As I know they still use beef heart in the sauce next door at American Coney Island, sauce made by Detroit Chili Co., Inc., the differences in the two sauces is clear.
There is also regular discussion about which of these three evolved into the other two. The Jackson and Detroit Coney shops actually had no bearing on the development of the Flint Coney. Likewise, the originators of all three Coneys likely had no clue what the others were doing until long after the fact.

Flint Original Coney Island founder Simion P. Brayan had immigrated from Boufi, Macedonia, in 1916, ending up in Flint after 1921 after spending a few years as a fur dryer in Toronto. It was the savory tastes of Macedonia that accounts for the flavors and textures of the Flint Coney.
It's been reported that Brayan visited a lunch counter in Rochester, New York. He reportedly ordered what they called a "Coney Island," then was quoted as saying it was "practically tasteless…unfit for a young man whose palate was accustomed to the hardy cuisine of southeast Europe.…They used ground beef, a little chili powder, a little paprika, but it had no taste." Thinking back to a Macedonian goulash he'd eaten back in his hometown of Boufi, which contained beef heart and occasionally beef kidney, all in a beef suet base, he determined he could make a better coney sauce based on the heartiness of that Macedonian dish.
It was Brayan who got together with Edward Abbott and Albert Koegel sometime between 1921 and 1925 to respectively create what was needed for the Flint Coney's sauce base and Coney Franks.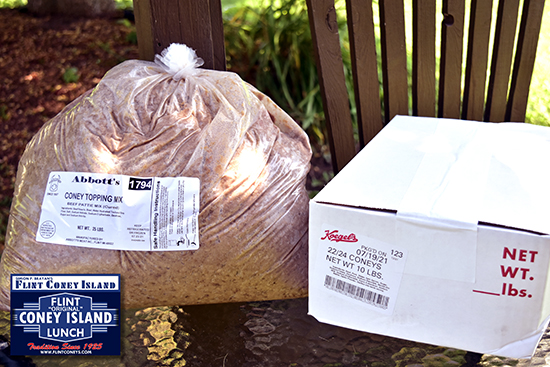 A 25 lb bag of the raw and unfrozen beef heart base Abbott's Meat provides to restaurants, with a 10 lb box of Koegel's Coney Franks, the restaurant version of their popular Vienna.
One thing I'm doing my best to correct, is peoples' perception of what a Flint Coney really is. So before we go any further, let's get something straight:
There is no such thing as a single restaurant recipe for Flint Coney sauce.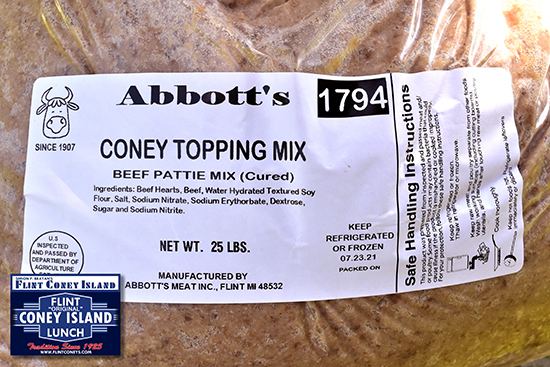 Making Flint Coney sauce at restaurants is relatively simple, using the 25 lb bag of ground beef hearts pictured above. A fat is melted, originally beef tallow or suet but now more likely lard, shortening, or vegetable oil, and minced onions are sautéed in the hot fat. When the onions are translucent, the restaurant's own combination of spices is added. Those spices include good amounts of cumin, paprika, and hot chili powder, generally about eight ounces each. Once the spices are blended into the onion and fat mixture, the 25 lbs of raw extra fine grind of "beef, beef heart and soy texture" from Abbott's Meat is added, along with any other ground meat components the restaurant might use, such as beef kidney or liver. The sauce is then allowed to simmer for more than an hour to tenderize the ground beef heart to the right consistency. The sauce can then be held over low heat all day for service.
In examining the conjecture surrounding the folklore-ridden recipe containing ground hot dogs, and in considering that some restaurants may have added, or still may be adding, chopped hot dogs to be frugal and not wasteful according to their Macedonian culture, a few facts emerge:
The restaurants wouldn't have ground fresh Koegel Coney Franks into their sauce, but instead would have used grilled Coneys leftover from the previous day. Grilling changes both the flavor and the texture, creating a more savory dish.
As Abbott's provided their Coney Topping Base to individual restaurants beginning in 1925, and as their menus were quite small, those restaurants likely wouldn't have had a meat grinder among their equipment. They may have done the chopping with a couple of bench scrapers on a cutting board or the flattop.
The additional unseasoned but grill hot dog meat would be cause to increase the amount of spices used in the sauce.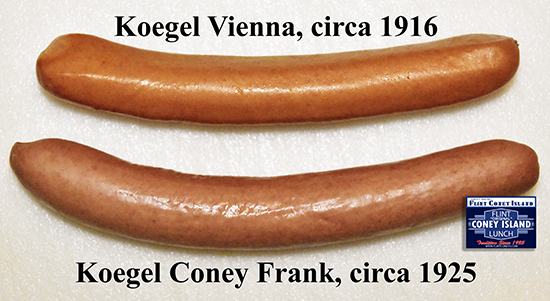 Brayan also got together with master sausage maker Albert Koegel to develop a coney dog that wouldn't burn when kept for a length of time on a relatively hot restaurant flattop grill. Koegel removed the nonfat dry milk and sugars from Koegel's popular Vienna (a version of the Frankfurter Würstel), which Koegel had offered since 1917. Koegel also changed the proportion of ingredients so they contained more fat pork than beef and made the new coney dog somewhat slimmer. There was no indicated change in the casing, as they both use lamb.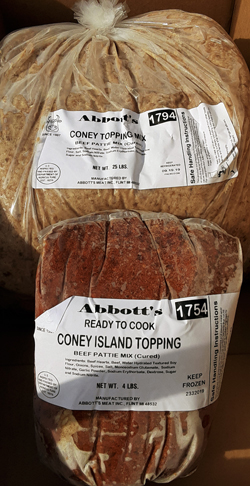 Abbott's Coney Topping Mix; Beef Pattie Mix (Cured), 25 lbs – Ingredients: Beef Hearts, Beef, Water Hydrated Textured Soy Flour, Salt, Sodium Nitrate, Sodium Erythorbate, Dextrose, Sugar and Sodium Nitrite
Abbott's Ready To Cook Coney Island Topping; Beef Pattie Mix (Cured), 4 or 10 lbs – Ingredients: Beef Hearts, Beef, Water Hydrated Textured Soy Flour, Onions, Spices, Salt, Monosodium Glutamate, Sodium Nitrate, Garlic Powder, Sodium Erythorbate, Dextrose, Sugar and Sodium Nitrite
The ready-to-cook Coney Island Topping is also raw. However, it only needs to be thawed and simmered to an internal temperature of 165°F before serving. Nothing else needs to be added.