Maps showing the shifts of the boundaries of various territories resulting from the London Peace Conference of 1912 – 1913 (top), and the 1913 Treaty Of Bukarest (bottom). (Carnegie Endowment for International Peace 1914) (Boufi location by myself)
The following are excerpts from the Flint Coney history I've been researching and writing since 2012. This is part of my book "
The Flint Coney: A Savory History
", which was released April 25, 2022. Copyright remains with me.
Akritas, formerly known as Boufi, as shown in Google Street View. This is the active Street View, and can be manipulated as usual. An example of the atrocities that happened during the Balkan Wars in the early twentieth century can be realized by looking into what occurred at he village of Boufi, Florina, Macedonia. Boufi was quite small, with populations never exceeding a couple thousand people. But as of the late twentieth century, the renamed village of Akritas had a population of only around 200 people, depending on the source of the record. The events that occurred there in the early 1900s were downright brutal, and require a closer look as they were the cause of the mass emigration from the area to other parts of the world. In the early twentieth century the prefecture of Florina was in turmoil, along with the rest of Macedonia. On August 23, 1903, the Los Angeles Herald reported that the previous day "… the villages 'of Boufi, Rakaro and Armcsko, near Florina, have been bombarded and their insurgent garrisons annihilated. At Boufi alone 500 Bulgarians are reported to have been killed. The women and children escaped to the mountains.'" ["Insurgent Garrisons Wiped Out – Three Villages Near Fiorina Have Been Abandoned". Los Angeles Herald, Volume XXX, Number 320, 1903.] In 1914 the Report of the International Commission to Inquire into the Causes and Conduct of the Balkan Wars, from the Carnegie Endowment for International Peace, stated that during this time "… there are a thousand deaths and, in the final result, 200 villages ruined by Turkish vengeance, 12,000 houses burned, 3,000 women outraged, 4,700 inhabitants slain and 71,000 without a roof." [Report of the International Commission to Inquire into the Causes and Conduct of the Balkan Wars. Carnegie Endowment for International Peace, 1914.]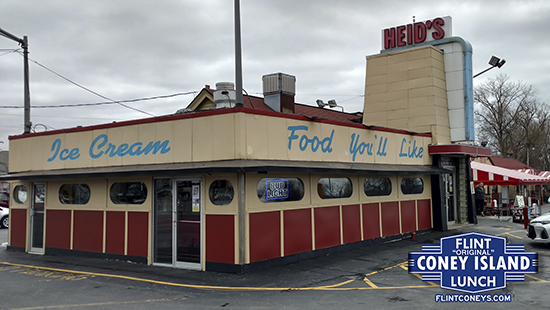 Heid's of Liverpool
, in Liverpool, NY, on April 20, 2018. While certainly not a "Coney Island restaurant" per se, it's one of the earliest continually-operating hot dog shops in the U.S., and may be where Simion Brayan stopped near Rochester on his way to Flint.
Macedonian Simion Brayan immigrated to the United States on October 6, 1916, aboard the SS Re d'Italia from Napoli, with his final destination listed as the home of a cousin, Tim Brayan, in Youngstown, Ohio. It must be noted that Simion immigrated alone. Velicia (née Vishen) and Anna (Anastasia) didn't make the same trip until 1925, arriving at Ellis Island aboard the Olympic on April 30. It's been reported that Brayan visited a lunch counter in Rochester, New York. This was likely while he was in Buffalo after his second immigration in 1921. He reportedly ordered what they called a "Coney Island," then quoted as saying it was "practically tasteless … unfit for a young man whose palate was accustomed to the hardy cuisine of southeast Europe.…They used ground beef, a little chili powder, a little paprika, but it had no taste." Thinking back to the Macedonian goulash he'd eaten back in Boufi, which contained beef heart and occasionally beef kidney, all in a beef suet base, he determined he could make a better coney sauce based on the heartiness of that Macedonian dish.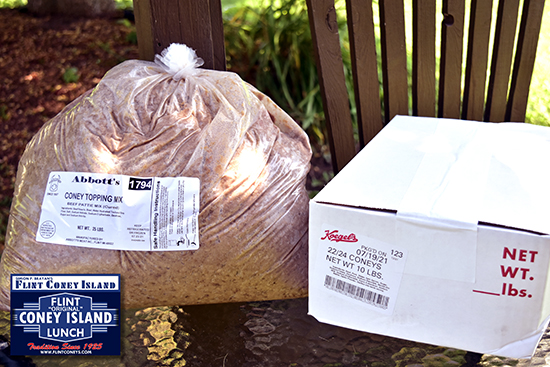 Once he was settled in Flint after 1921, Simion Brayan spoke with an Abbott's Meat employee about his concept of using Macedonian goulash containing beef heart and kidney as the basis for his Flint coney sauce. It's likely that his own recipe for Flint coney sauce was never written down. At the time of the development of the sauce, home cooks generally didn't write down their recipes. Any documentation of Brayan's original recipe itself may not have ever existed. Brayan also got together with master sausage maker Albert Koegel to develop a coney dog that wouldn't burn when kept for a length of time on a relatively hot restaurant flattop grill. Koegel removed the nonfat dry milk and sugars from Koegel's popular Vienna (a version of the Frankfurter Würstel), which Koegel had offered since 1917. Koegel also changed the proportion of ingredients so they contained more fat pork than beef and made the new coney dog somewhat slimmer. There was no indicated change in the casing, as they both use lamb. The natural lamb-encased Koegel's Coney Frank with the perfect "snap" was born