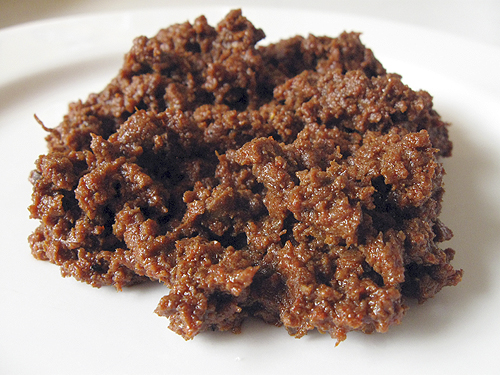 If and when you come across the following supposedly "original" recipe for Flint Coney Sauce on the web, this isn't it. The organ taste is quite strong and the aftertaste even stronger. I rarely throw away things I've made, but this one didn't make it. This is probably one of those recipes that was posted to the internet before the person who posted it even tried it.
Flint's Original Coney Sauce Recipe
Ingredients
1/2 pound of beef kidney
1/2 pound of beef heart
3 tbsp of paprika
2 tbsp of chili pwdr
1/4 veg. oil
salt to taste

Directions
1. Have your butcher grind kidney and heart.

2. Start by mixing all ingredients except oil in an adequately sized sauce pan. Since meat is very dry, slowly add in oil before turning on heat.

3. Mix well over medium heat, and allow to simmer on low heat for about 45 minutes. May need to add in more oil, since you don't want mix to "fry dry".

4. I always use a Vienna warm dog (Koegel's are the best), Coney Sauce, diced onions, and mustard top the bun.

5. Cannot get this in a resturant except in Flint, MI.
To quote Owen Wilson, "I need to go find some whiskey to wash this taste out of my mouth".