Dave Liske, recipe tested November 4, 2014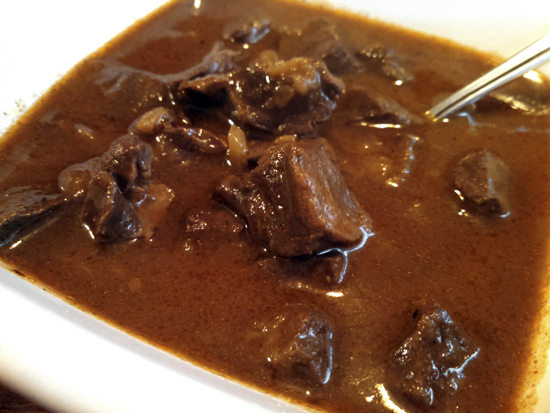 A serving of Macedonian Goulash in our own kitchen. This batch was made with all beef heart.

As reported in "Two to Go: A Short History of Flint's Coney Island Restaurants", by Florine, Davison & Jaeger and published in 2007 by the Genesee County Historical Society, Flint coney sauce developer Simion P. Brayan once relayed the following:
He had eaten something at home, like goulash, that contained parts of a cow that most Americans would declare positively yukky [sic]. He concluded that to make a better coney sauce, one should blend flavorful beef heart and kidney with the beef using beef suet as a base.
Tracking down such a recipe is no mean feat. Likely because of the war in the early years of the 20th century, and the First and Second Balkan Wars of 1912 and 1913, very little record of the Macedonian cuisine of the time has survived. We do know that they would have been "nose-to-tail" eaters as that's how people cooked back then. But even more accurately, home cooks … cooked. Like your grandmother and great-grandmother, they simply didn't write recipes down. They learned from their own family memebers, and there were no cookbooks in those homes like there are today.
Below is the recipe as we tested it. A whole beef heart generally weighs about 4-1/2 lb. Once the fat and membranes are trimmed, the weight is about 4 lb. This doen't need to be exact, and really, the whole recipe is just begging for modifications. As it is, though, we hope it's quite close to what Simion P. Brayan recalled when he developed the Flint coney sauce in the first place.
Old-Fashioned Macedonian Goulash
Tested November 4, 2014Ingredients
4 lb beef heart
1/2 lb beef kidney (optional)
4 lb onions
1 cup lard
2 tablespoons smoked paprika
1 tablespoon chili powder
salt
black pepper
water
2 tablespoons lard
2 tablespoons flour
=====
Chop the onions to 1/4″. Trim the fat and any membranes off the meats and cut into 1/2″ cubes. Melt the 1 cup of lard in an 8-quart and sauté the onions until browned. Add the meat to the onion and lard mixture and brown. Once the meat is browned, add enough cold water to cover the meat. Bring the water to a boil and season with salt and pepper. Boil until the meat is fork tender, 60 to 90 minutes, adding more water whenever necessary, again, to just cover the meat. When the meat is fork tender, make a roux in a small pan from the one tablespoon each of lard and flour. As soon as the roux form begins to form, slowly add the paprika and chili powder. Cook for about 10 seconds, then add the spiced roux to the goulash to thicken. Serve in bowls.
The smell of the dish can be somewhat off-putting to some, but even those diners said the flavor and texture of this dish was quite good. To make it more palatable for Americans, serve the goulash over a bed of cooked-and-drained wide egg noodles, and top the dish with a dollop of sour cream.