updated January 22, 2022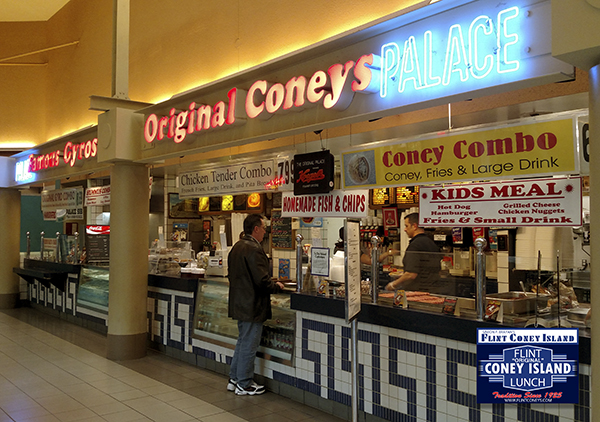 Palace Coney Island, photographed on March 18, 2016, in the food court in the mezzanine of Genesee Valley Shopping Center at Miller and Linden Roads in Flint Township. The author started eating at Gus Vergos' Palace when it was located in the east wing of the mall when it opened in 1970. The restaurant moved when the mezzanine and its food court were added in 1987. Palace Coney Island closed in June 2020 after 50 years in Genesee Valley.
Please note: Being listed on this page does not indicate any kind of arrangement between the Flint Coney Resource Site and any of the restaurants listed. This is merely a simple directory.
Mobile Venues
Check the web sites or social media for the following mobile operations for times and locations:
Chains Offering Flint-style Coneys
The following restaurant chains are not included in the list below because of their numbers of locations:
Flint Coney Restaurants
Flint Area
A+ Angelo's Coney Island Palace
7500 Grand Parkway
Grand Blanc, Michigan
(810) 655-0912
www.aplusangelosconeyisland.com
Al's Coney Island Restaurant
2802 Dort Hey.
Flint, Michigan
(810) 391-2780
Aldo's Coney Island
3402 Davison Rd.
Flint, Michigan
(810) 407-6269
Antonio's Coney Island
5485 Fenton Rd.
Flint, Michigan
(810) 515-1848
Burger Street Grille & Cafe
1073 W Hill Rd.
Flint, MI 48507
(810) 232.8220
www.burgerstreetgrilleandcafe.com
Capitol Coney Island
4021 Van Slyke Rd.
Flint, MI 48507
(810) 238-5961
eatcapitol.com
Coney Conexion #1
1446 S. Linden Rd.
Flint, Michigan
(810) 720-9901
www.coneyconexion.com
Coney Conexion #2
1132 N. Ballenger Hwy.
Flint, Michigan
(810) 238-1340
www.coneyconexion.com
The Coney Grill
2175 Dort Hey.
Flint, Michigan
(810) 232-0333
Dom's Diner
3433 Corunna Rd.
Flint, Michigan
(810) 780-4011
www.domsdiner.com
Gillie's Coney Island
6524 N. Dort Hwy.
Mt. Morris, Michigan 48458
(810) 686-1200
www.gilliesconeyisland.com
John's Coney Island
5275 Corunna Rd
Flint, MI 48532
(810) 732-5230
Mega Classic Diner
4462 Corunna Rd.
Flint, Michigan 48532
(810) 732-9700
Mega Coney Island
3251 Owen Rd.
Fenton, Michigan 48430
(810) 750-2234
www.facebook.com/pages/Mega-Coney-Island/143418982356605
O My Wings & Things
G-4242 Fenton Rd.
Flint, Michigan 48507
(810) 494-1343
Paul's Coney Island
2280 S. Center Rd.
Burton, MI 48519
(810) 742-8695
www.paulsconeyisland.com
Sam's Coney Island & Family Restaurant
420 W Nepessing St.
Lapeer, Michigan
(810) 664-1451
www.facebook.com/pages/Sams-Coney-Island-Family-Restaurant/270585001747
Scotti's Coney Island
5522 Lapeer Rd.
Burton, Michigan
(810)-742-9898
Sophia's Kitchen

11395 S. Saginaw
Grand Blanc, Michigan
(810) 695-8555
sophiaskitchengrandblanc.com
Starlite Diner & Coney Island
1500 N. Center Rd.
Burton, Michigan 48509
(810) 742-4955
www.starlite1966.com
Sunrise Coney Island
G4242 Fenton Rd.
Flint, Michigan
(810) 767-4436
Telly's Coney Island
3459 Miller Rd.
Flint, Michigan
(810) 720-8110
https://tellysconeyisland.com
Tom's Coney Cafe
512 Dort Hey.
Flint, Michigan
(810) 767-3540
Torch Bar & Grill
522 Buckham Alley
Flint, Michigan
(810) 232-0626
www.torchbar.com
Valley's Breakfast & Bistro
1072 Elms Rd. Unit G
Flint, Michigan 48507
(810) 733-8553
www.facebook.com/Valleys-Breakfast-and-Bistro-122363241758216/
Westside Diner
2336 South Ballenger Hwy
Flint, Michigan 48503
(810) 238-2119
Other Michigan Communities
Outside Michigan