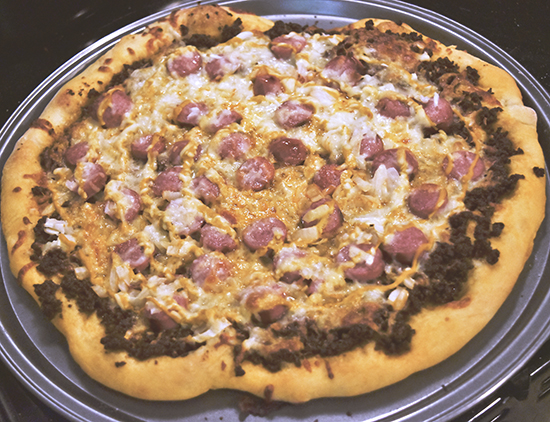 A completed Flint Coney pizza.
One of the more unique pizzas I've seen in recent years is in the areas of Toledo, Ohio, and Monroe County, Michigan, just north of the state line from Toledo. According to the web site for Vito's of Bedford, Michigan, the Tony Packo's pizza consists of "Tony Packo's Hot Dog Sauce, sliced Tony Packo's Hungarian Sausage, red onions, cheddar & mozzarella cheeses, topped with mustard. Served with your choice of Tony Packo's Original or Sweet Hot Pickles & Peppers."
After enjoying one of these pizzas myself over the years, I got to thinking … Why not do the same with the Flint Coney? Frank-ly, I'm glad I did. It turned out to be even better than Vito's Packo's version, and is something I'll definitely make again.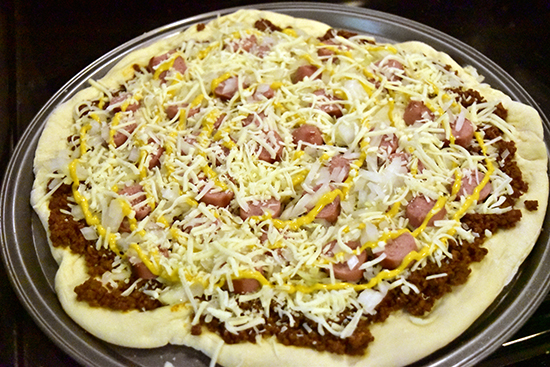 A prepped Flint Coney pizza, before baking.
As far as ingredient measurements go, this is something you really just need to eyeball. That's why the ingredient list below only lists what's needed, not how much. Have fun with it. That's what we did.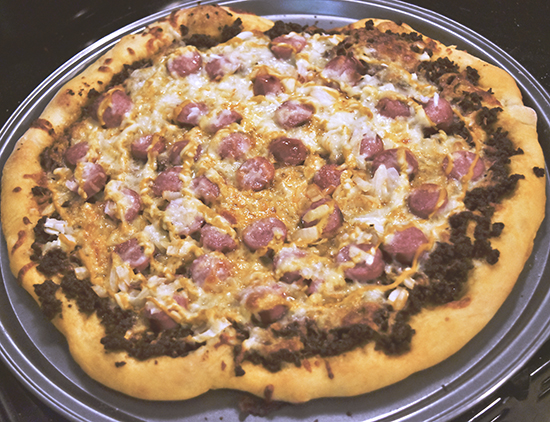 Flint Coney Pizza
A pizza made simply with the key components of the Flint Coney.
Ingredients
Pizza crust or dough

Flint Coney sauce

Pizza cheese

Koegel's Coney Franks or Viennas

Onion, finely chopped

Yellow mustard
Instructions
Prepare the Flint Coney sauce, and heat it enough to loosen it.

Grill the Koegel Coney Franks or Viennas until almost done. Cool slightly, then slice to about 1/4" thick. Set aside.

Preheat an oven to 425 degrees F.

Prepare the pizza crust or dough as necessary. Place on the pizza pan.

Spread the Flint Coney sauce on the crust or dough, just enough so you can't see the crust through it, but not too thick.

Add a first layer of pizza cheese as desired.

Lay the sliced Franks or Viennas around on the cheese, flat side down.

Add chopped onion around the pizza as desired.

Starting in the middle, create a spiral of yellow mostard around the pizza, as desired.

Top with one more layer of cheese.

Bake in the 425 degrees F oven for 15 minutes, until both the crust and cheese are golden brown.