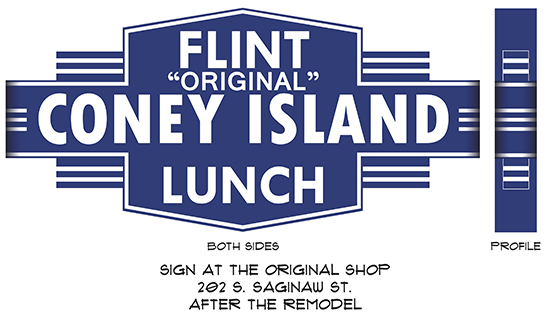 Following are the Frequently Asked Questions regarding the Flint Coney, and the various Flint Coney sauce recipes. Hopefully, this will clear up some of the rumors and folklore surrounding the dish.
What's the correct way to eat a Flint Coney?
This is what's known as "Two Up": Preferably in pairs, the natural casing hot dog, a Koegel Coney Frank or Vienna, is grilled and placed within a steamed bun. It's then topped with Flint Coney sauce, along with two lines of yellow mustard and a plethora of finely-chopped onion. These are then served with a side of French fries.
Did the original owners ever return to Angelo's?
No. The original owners sold Angelo's in 1998 and had never returned. The chronology of owners was:
1949 – 1998:
Vangel T. "Angelo" Nicoloff (1912 – 1969)
Carl Paul
Angelo Popoff
Tom W. Branoff
Tom V. Branoff
Angelo Branoff
1998-2003:
Neil Helmkay
Tom Zelvrovski
2003-2017:
Davison Rd original location, 2017 – 2018 closure:
Grand Blanc Rd. location, Mundy Twp, 2017 – present:
The original Angelo, Vangel T. Nicoloff, wasn't even the Angelo most people remember. Angelo Branoff is the one who people likely remember. Vangel T. "Angelo" Nicoloff, the restaurant's namesake, was born in Boufi, Macedonia, in 1912 and immigrated to the U.S. in 1928 at the age of 16 to join his father, Anthony Nicoloff, who owned the San Juan Chili Parlor in Flint from 1927 – 1945. Angelo also worked for Simion Brayan at the actual original Flint Coney Island for a time before founding Angelo's on Davison Rd. in 1949, 25 years after Brayan first opened his restaurant. Angelo passed away in 1969, so most people today who claim to have known him likely never met him.
In November 2017 after more than three years since his first listing Angelo's Coney Island as being for sale, it was reported that Neil Helmkay placed the the original Davison Rd. location under a lease-to-own option to Tim and Paula Stanek, owners of the nearby Chilly's Bar. But unfortunately on December 28, 2018, Tim Stanek confirmed to the Flint Journal that the location had closed during the previous week. Calling the closing "A sad day for tradition", Stanek stated "It's sad what's happening to the east side. It's getting worse. It's not getting better. If something doesn't happen soon, we certainly won't be the last (business to close) over there." As the Grand Blanc Rd. Angelo's location in Mundy Township was still open, it wasn't the complete demise of the operation. (ref: Acosta, Robert. Angelo's Coney Island closes after nearly 70 years in Flint. MLive. [Online] December 28, 2018. [Cited: December 29, 2018.] https://www.mlive.com/news/flint/2018/12/angelos-coney-island-closes-after-nearly-60-years-in-flint.html)
Do you have the recipe for the original Flint Coney sauce?
No, we do not. We have collected all the recipes we could find, and have developed rather accurate "copycat" versions of, for example, Abbott's Original Coney Island Topping sauce, along with some others. (You can get to these from our Sauce Recipes page.) But we do not claim to have any of the original recipes.
Has the recipe for Flint Coney sauce ever been released to anyone?
We're aware of one actual restaurant recipe that has ever been released. In 1991 the Michigan Restaurant Association published "A Taste of Michigan", a collection of more than 200 recipes from Michigan restaurants. David Gillie of Gillie's Coney Island in Mt. Morris contributed a recipe to this book, "Gillie's Flint Coney Island Hot Dog Chili Topping". Regarding this recipe, Gillie has tld us "I made one change in that published recipe: I changed the normal extra fine raw ground 'beef, beef heart, soy texture' that I buy from Abbott's Meat in 25# bags with suggesting they use lean hamburg and grind it extra fine." Our test of Gillie's recipe can be found here.
We do need to point out that there is no such thing as a single restaurant recipe for Flint Coney sauce. Abbott's Meat provides a sauce base to the restaurants consisting of beef, beef heart and soy flour. This is the foundation for each restaurant's individual recipe for the sauce, and is why there are so many minor variations in flavor.
Is it true that one of my relatives or friends received the recipe for Flint Coney sauce from one of the owners or employees?
Is it true that when the owner of one of the coney shops passed away, his wife allowed the original Flint Coney sauce recipe to be published in the Flint Journal?
This rumor is normally given as "This was published in the Flint Journal some time after the death of the man who created it. His wife allowed it to be published." However, Brayan's wife Velicia passed away in 1976, while Simion himself lived until the age of 100, not passing until 1990, so this particular rumor is patently false.
Why don't you have a recipe yet for Koegel's Flint coney sauce?
Not to put too fine a point on it, there's no such thing. The Flint Coney sauce Koegel's distributes is Abbott's Original Flint Coney Sauce, which we do have a recipe for off our Recipes page. They also carry two other products; their Hot Dog Chili Sauce, which is specifically a Detroit Syle Coney Sauce, and their Chili Topping, which is more of a Chili Con Carne and does not include beef heart as the Flint, Detroit, and Jackson coney sauces do.
Are there ground hot dogs in the original Flint Coney sauce recipe?
What meats are in the original Flint Coney sauce recipe?
"According to Edward Abbott, who eighty plus years later is still making the ground meat base for Flint's coney island sauce, the only meat ingredient is beef heart, regardless of the stories and rumors of other meat parts being used." (Two to Go: A Short History of Flint's Coney Island Restaurants", by Florine, Davison & Jaeger and published in 2007 by the Genesee County Historical Society) In the same book, Simion P. Brayan is described as saying there were also beef kidneys in the Macedonian goulash he based the sauce on. The flavor of kidney can indeed be identified in some versions of the sauce at various restaurants. There may be liver, ground beef and other ingredients in some as well, but the original sauce base only contains beef heart, with rendered beef suet (aka beef tallow) also being included as a melted fat element.
Where did the Flint Coney sauce recipe that includes ground hot dogs originate?
Our investigation into this particular recipe, and the myths and folklore surrounding it, have become rather involved. We've put together a page with all the information we've collected so far, which is available by clicking here. We've included our own version of that recipe on this site as the Homestyle Flint Coney Sauce Recipe.
Which one is the original restaurant that served Flint Coneys?
That would have been Flint Coney Island, aka "Flint's Original", which operated at 202/208 S. Saginaw St. from 1926 – 1979.
Which restaurant serves the original Flint Coney sauce?
None of them do. However each is a derivative of the original in some manner as many early operators started at Flint Coney Island.
Which restaurant has the original Flint Coney sauce recipe?
None of them do. This recipe was never written down, as per Simion P. Brayan, who developed it before handing off production to Abbott's Meats. People of his generation simply didn't write down recipes. Edward Abbott is also quoted as saying of his butchers and cooks, "Taste varied according to the size of the chef's hand", meaning Abbott's doesn't have any measurements to use in the production of the sauce. There's really no copy of Brayan's original recipe for any of the restaurants to have.
Is it true that the restaurant at [insert name here] has a recipe locked up that they pass from generation to generation, like they say they do?
This is possible. Some of the Flint Coney shops have developed their own version of Simion P. Brayan's original Flint Coney sauce, which they may have stored somewhere. But it wouldn't be Brayan's recipe.
How many versions of the Flint Coney sauce are there?
We have no idea. There may very well be as many versions as there are Flint Coney shops. Fortunately, the various sauces all proudly reflect the style of Simion P. Brayan's original sauce.
The natural casings on my Viennas are chewy. Did Koegel change the casing?
One of the many instances of issues with Koegel's natural casings happened in May 2015. At that time apparently there was an issue with the casings becoming quite hard when cooked. Complaints appeared on Koegel's Facebook page, and Mr. John Koegel himself provided the explanation by describing a few basic concepts of meatpacking. Note that the variations he describes here can also result in chewy casings:
"Thank you for your post inquiring about our casings. Please accept my apology for these incidents. Natural casings vary in tenderness based on the country of origin, age and diet of the sheep. We usually get the best selection because we are one of the largest producers of natural casing products in the midwest. We try to make sure that we stuff the casing fully without breaking them and steam them properly, steaming tenderizes a natural casing. Unfortunately, we do not know a casing is tough until it is being eaten and by that time we are into a new lot. We have not changed anything but it is a variable we cannot always control. Again, thank you for your post. Sincerely, John Koegel"
While Mr. Koegel wrote "sheep", remember that a lamb is a young sheep. Both the Vienna and the Coney use lamb casings, vs. the sheep casing on many hot dogs used for Detroit style coney dogs, which is why those products seem to be more chewy than their Flint counterparts.
Why don't you have any historical images of the restaurants, meatpackers, or the families who've operated those businesses?
None of those images are public domain, especially those of the families. Just because an image is on the internet or in a book does not mean it's available for anyone to use. People do so, however, particularly where the families who were involved in the development of the Flint Coney are concerned, and in doing so they disrespect the very families they claim to respect. Doing so is seriously bad form, and is also illegal. As to other historical images, those are curated by the Flint Journal Archives at the Sloan Museum in Flint, or the Scharchburg Archives at Kettering University, also in Flint. We will not post any of those images here as it's simply not the right thing to do without permission.
May I use images off the Flint Coney Resource Site?
Send me a message through my Contact Form and we'll discuss it. But you may not do so without my express permission.
Is it true the Flint Coney can only be had in the area of Flint, Michigan?
No, this is false. Besides the dozens of Coney shops in Genesee County, we've located restaurants in other areas of Michigan that serve the Flint Coney, including Grand Rapids, Traverse City, Mt. Pleasant, Standish and other cities. Nationally, we know also of restaurants in Minnesota, West Virginia and as far as Florida serving them. Please visit our Restaurants page for a complete list.
I don't live in the Flint area, nor do I live near any of the restaurants serving Flint Coneys. Where can I get some?
Abbott's Original Coney Island Topping is available for home purchase from Lynch Shipping, in partnership with Koegel Meats, in a 4 lb bag at buykoegels.com. A 10 lb bag is also available on their site by clicking here. Koegel Viennas are also available for home purchase from Lynch Shipping, in partnership with Koegel Meats, in a 10 lb box at buykoegels.com. Koegel's Coney Franks are currently unavailable online.