One of the issues with a site such as this one is when other web designers and article writers disregard the fact that this material is my own. Likewsise, if I use other people's work on my sites, I do my absolute best to ensure meticulous credit is given where it's due, including getting permission from those individuals before I reprint their work.

This page is where you'll find those who have used images or other material from the Flint Coney Resource Site and other sites of mine as their own.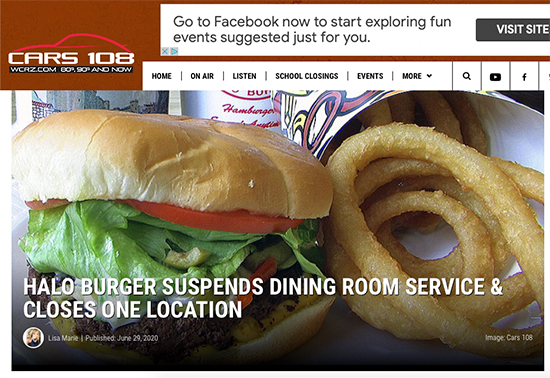 A screenshot of the Halo Burger image on the Cars 108 page.
Lisa Marie at WCRZ, Cars 108 in Burton, Michigan, not only uses other people's photos in her articles, but also cannot seem to get credit straight in multiple incidents. Her first gaffe comes from June 29, 2020, in a piece titled "Halo Burger Suspends Dining Room Service & Closes One Location." The image is that of a Halo Burger Cheeseburger Deluxe with Olives, with a note on the photo stating "Image: Cars 108", as though it's their own.

My image of the Halo Burger at the Birch Run location.
The original image is my own, from the post "THIS Is A Haloburger, People!" from August 6, 2008, on my Luna Pier Cook blog. I'd taken my kids to that location for lunch, almost 12 years before Lisa Marie claimed the image originated at the station.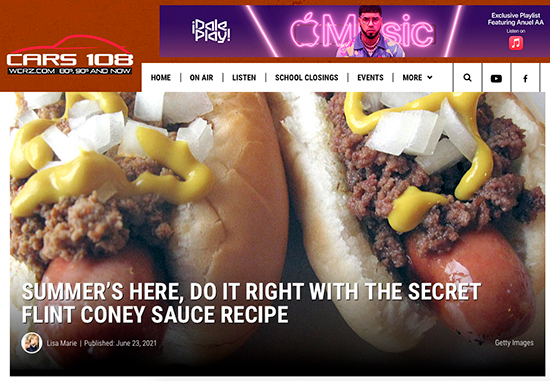 A screenshot of the Flint Coney image on the Cars 108 page.
In a second incident on June 23, 2021, Lisa Marie posted an article titled Summer's Here, Do It Right With The Secret Flint Coney Sauce Recipe." The image she included shows two coneys. The credit is listed as "Getty Images."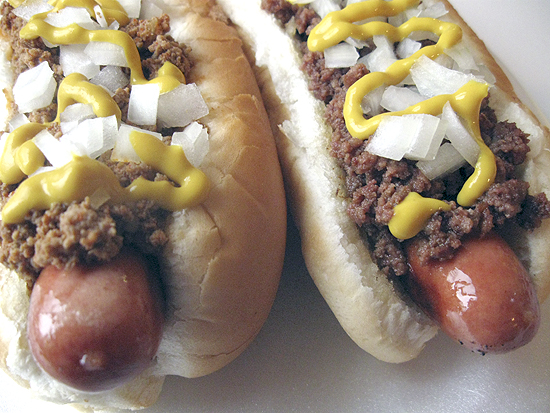 The image as it appears on the site you're now reading.
Not only is the image my own, from the recipe page titled "A Flint Coney Matchup: Chef Marty Embry vs. Angelo's Original, it's not even of the recipe Lisa Marie included. My original caption for the image is, "On the left is a coney made with Marty Embry's Flint Coney sauce. On the right is a similar coney, but topped with Angelo's original sauce." The recipe she included though, the ground hot dog recipe which was never used at any Flint Coney restaurant, isn't properly credited either.
What's even more confusing is the "Getty Images" credit. Getty Images is a site for professional photographers, photojournalists, and others to use to offer and acquire meticulously credited imagery. None of my photos are available from Getty Images. Lisa Marie's credit to them makes no sense whatsoever.
RESOLVED
This issue has been resolved. Please see Laura Emerich's comment at the bottom of this page.
On their site from July 19, 2021, Gloria Pitzer's family posted an article titled "Mondays & Memories of My Mom – Junk Food." Within that post is the following image: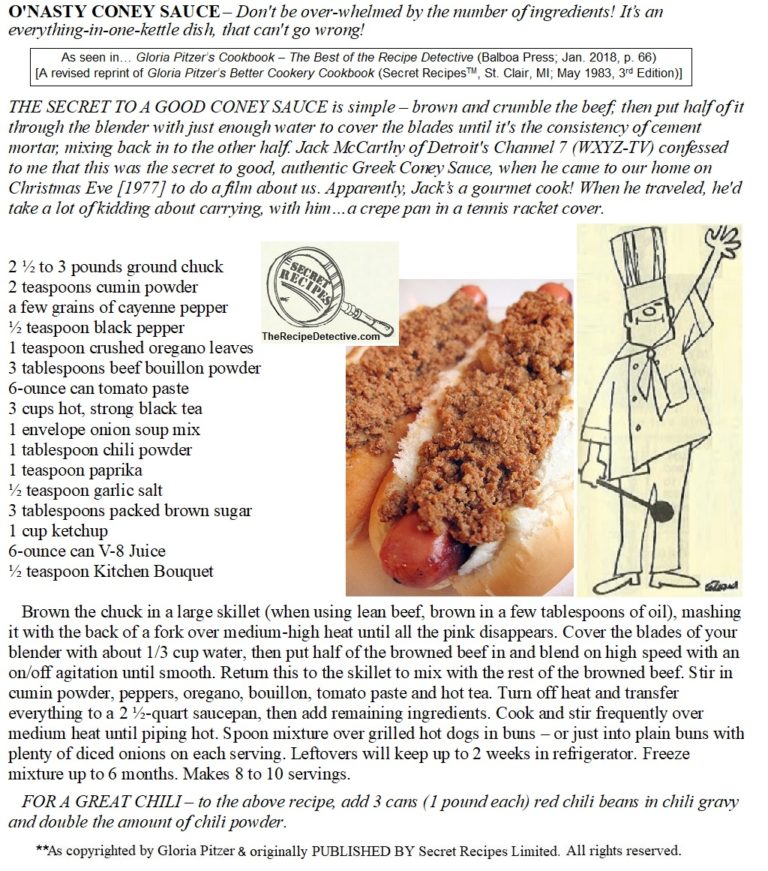 The information given for this image of a page from their book is as follows:
In honor of Wednesday, being National Hot Dog Day (which is always the third Wednesday of July) – and July is also National Hot Dog Month – here is Mom's copycat recipe for "O'Nasty Coney Sauce"; as seen in… Gloria Pitzer's Cookbook – The Best of the Recipe Detective (Balboa Press; Jan. 2018, p. 66)

[A revised reprint of Gloria Pitzer's Better Cookery Cookbook (Secret RecipesTM, St. Clair, MI; May 1983, 3rd Edition)].
The image of two coneys on that page from their 2018 book is a reversed copy of an image halfway down one of my recipe pages, posted on October 5, 2014, "A Flint Coney Matchup: Chef Marty Embry vs. Angelo's Original."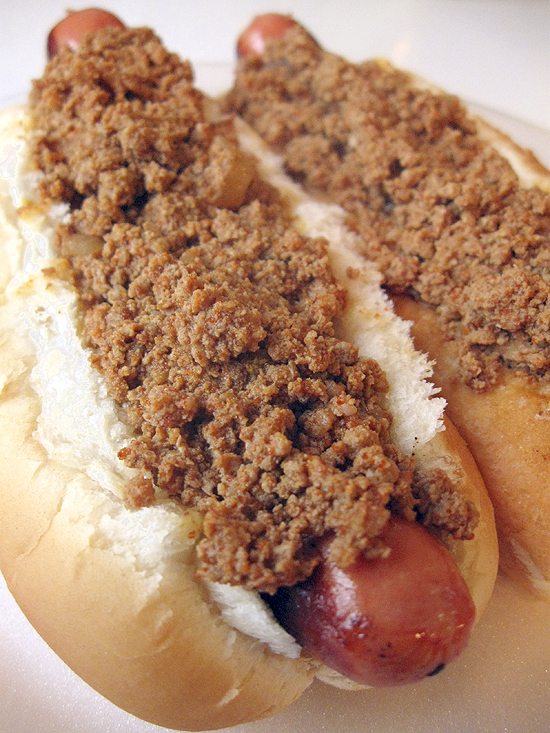 My own caption for that image reads "These are two coneys made with Marty's Coney Sauce Spice. There's none of Angelo's sauce to be found here. Once I photographed these, they went to Mary."
They also used the reversed image by itself in an earlier post from April 16, 2019, titled "Coney-Style Hot Dog Sauce" which, oddly enough, presented my same image with a different recipe of theirs.
The implication of their use of my image is that it's the result of their recipes for Detroit style coneys as given on those pages. The truth is that not only are the coneys Flint style, but my image of coneys I made in my own home for use in my own work isn't theirs to use whatsoever. They never requested permission, and published their own book and web site using my image anyway.
On December 6, 2021, the author of "The Recipe Detective" replied as follows:
Hi Dave. You're obviously not familiar with my mom's work. She always claimed, and does so in her book, that she never knew what the original recipes were of which she attempted to imitate at home, by developing her own recipes that would taste the same or similar. She compared herself to being the "Rich Little" of the food industry in the book's introduction. The pic is simply Mom's recipe for imitating the original product at home, from the ingredients she had in her own pantry. The key word is "imitating". It's meant to be a compliment.
They simply do not understand that copyright infringement, using other people's work and images, even on the web, is wrong.