Left: 11-year-old Ryan in the window of the old beachhouse at Luna Pier's Lake Erie beach in the summer of 2008.
In 1970 the Genesee Valley Shopping Center opened northeast of the intersection of Linden and Miller Roads, just over five miles west of Flint's Original. Gus Vergos opened the Palace Coney Island in the mall as part of that opening, setting up shop in the eastern Hamady Bros. wing. It was very soon afterward that this author's family began their Friday evening dinner-and-shopping tradition. With the size of the Genesee Valley mall, its number of stores, and the fact that Hamady Bros. had leased space for a full grocery there, the mall quickly began our "go-to" place for that tradition. And so it was in late 1970 that this author enjoyed his first Flint Coney at the age of eight or nine, at Gus Vergos' Palace.
The space was only about twenty feet wide but fairly deep. The gate opening was the left ten feet, the other ten feet being a wall having a small window. Through that window you could see Gus Vergos himself manning the grill, which was about two feet wide and four feet long. Gus was placing coneys from the box onto the heated flattop to his left, then moving them to his right as they cooked, all under the watchful eye of the sign that read "You are enjoying a Koegel's coney!" You'd pick up a tray and place your order for your coney with Gus. He would then take yours off the right end of the grill, place the coneys in the steamed buns, and top them with Abbott's Flint coney sauce, the stripes of yellow mustard and the tiny pieces of perfectly-chopped onions.
You would then move your tray to the left to order your sides from other workers behind the service counter, in between the countertop coolers and the pop machine that were all located between you and the workers, then pay at the end at the single cash register. Our family would then take two of the red vinyl booths throughout the rest of the space to enjoy our meal.
The line for Palace Coney Island generally wrapped around that wall at the opening and stretch down the mall corridor. There were probably at least twenty people in that line, increasing to much greater numbers during holiday seasons.
In 1987 Genesee Valley Mall opened a second-floor mezzanine in its center court, relocating some of the restaurants in the mall to a new Food Court upstairs. Gus Vergos' Palace Coney Island was one of the restaurants to make this move, where it still operates as of the time of this writing.
Iʹve had so many Flint coneys in my lifetime, I can still taste that sauce if I simply think about it for a second or two.
From 1986 – 87, living in an apartment on Franklin in Flint, right down the road from the original Angelo's, on a clear day I could smell those things cooking when a breeze would waft that wonderful smell south that couple blocks to our balcony.
A few years later, when the U.S. Navy parked me out on the east coast for about 6 years, my parents would head to that same original Angeloʹs location on the corner of Franklin and Davison Roads and pick up a half‐gallon of the sauce. Theyʹd then fly out to where I was stationed in Maryland and Virginia, with the sauce and some Koegel Viennas in a carried‐on cooler, and a 12‐pack of Vernors ginger ale in momʹs suitcase. (Cadbury Schweppes had only recently purchased Vernors from A&W, and the drink wasnʹt yet available out east.)
A few years before her passing my mom loaned me a blue three-ring binder. Sheʹd had a simple Brother word processor (i.e., a glorified ʺtypewriterʺ) for a number of years and, come to find out, sheʹd been archiving a large number of family recipes. Looking through this volume, I found recipes for dishes I had become more than familiar with. One recipe in particular caught my eye, even though it was nothing more than an odd list of ingredients:
CONEY ISLAND SAUCE

1 TBS Shortening

1 TBLS butter

2 chopped onions

1 1/2 lbs ground beef

1/2 tbs garlic powder

1 TBLS chili powder

1 TBLS prepared mustard

1 (6 oz) can tomato

(6 oz) water

sauce or catsup

4 or 5 weiners (hot dogs) ground

salt and papper

Aunt Fern
[I know "pepper" is misspelled, but that's how mom had typed it.]
After playing around with Aunt Fernʹs list of ingredients for a while, I developed the Homestyle version of the recipe. In three months during 2008 at the beachhouse at Lake Erie in Luna Pier, Michigan, we made 72 five‐quart batches of this recipe. In September 2009 I took the time to play around with beef hearts and beef kidneys based on further rumors Angeloʹs original recipe contained these ingredients along with ground beef. The resulting recipe can be found here. Some family members like one version over the other, with positive votes going in both directions.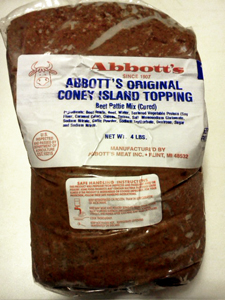 The reality though is that I still had a bit of work to do to get things exactly right. Because no matter how many different iterations of Aunt Fern's recipe I work through, it's still never going to be like that actual, original sauce.
Now, I love Angelo's Flint coneys. I actually haven't tasted a bad Flint coney. And in the three months we sold the Homestyle recipe sauce at the Luna Pier beachhouse, we got a lot of compliments on it.
However, regardless of what anyone wants to believe, regardless of any coney shop that states their handmade sauce is "original", regardless of which shop is most popular, regardless of which shop has Simion P. Brayan's sign out front … The original Flint coney sauce developed by Simion P. Brayan in 1925 and made at his own Flint Coney Island, the sauce base still being made by Abbott's Meats today and distributed to restaurants for use in their own sauces … Thats where it all began. It's what defines the Flint-style coney, along with Koegel's coneys on a steamed bun. All those sauces out there are simply paying homage to Mr. Brayan's vision.