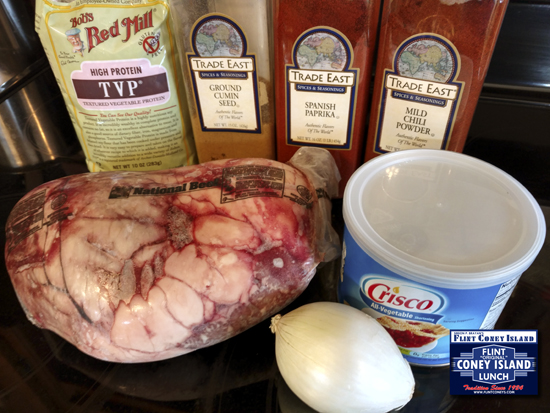 There's no one single recipe for Flint Coney sauce, as each restaurant prepares the ground beef heart from Abbott's their own way. This is our own version of the sauce, in a single recipe, for the stalwarts who want to try to do it all themselves.
Finished raw versions of Abbott's Original Coney Island Topping are available in 4lb and 10lb bags at the Abbott's Meat plant on Blackington northwest of Corunna and Ballenger in Flint. The plant has no retail shop … But you're welcome to walk in the door, go to the receptionist's window, and ask for what you'd like. It'll be brought out to you.
The topping is also available for home purchase from Lynch Shipping, in partnership with Koegel Meats, in a 4 lb bag at buykoegels.com. A 10 lb bag is also available on their site by clicking here.
Forget what you think you know about Flint Coney sauce. There are no ground hot dogs in it. There's certainly no tomato sauce or processed yellow mustard in it either. There might be kidney or other meats some restaurants may add to their own sauce, which is part of what makes each restaurant's sauce unique.
But to put it bluntly, many people have been overthinking it for too long. Someone created a "public" version of it that's more complicated than is necessary (the real history of which is here). And more expensive as well.
This is a more accurate version. Simple, inexpensive … and adjustable for personal taste.
As the sauce for a Flint Coney is traditionally a fine grind, we'll accomplished the finer grind by freezing and grinding the beef heart twice. See the notes below the recipe for more details.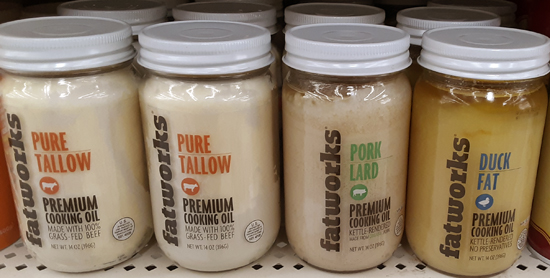 Dave Gillie of Gillie's Coney Island in Mt. Morris has described the ingredient list from the 25 lb bag of Flint Coney base from Abbott's Meat as "beef heart, beef, and soy texture". Other sources describe the cooking process as sautéing chopped onion in rendered beef suet aka beef tallow, adding Abbott's meat mixture, then adding the spices in a certain way to get a given restaurant's flavor for the sauce. While Dave Gillie told us he uses vegetable shortening, he also mentioned his cooking experience at Starlite where cooks mentioned using the beef suet in earlier times.
Textured vegetable protein (which is, by definition, a "soy texture" and shows up in the ingredient list on Abbott's 4lb and 10lb bags of finished "topping") wasn't developed until 1965 … Abbott's may have included some sort of cracker meal in the ground beef heart prior to that. But textured vegetable protein is an inexpensive and quick solution for the same result. Beef suet also takes a long time to render over low heat, and can burn easily if the heat is too high or if the suet contains too much debris. We'll take Dave Gillie's suggestion and use vegetable shortening instead.
With the beef heart frozen and ground twice to a fine grind and the textured vegetable protein added, we'll also follow the other sources by sautéing minced white onion in the shortening, then adding the meat mixture and simmering before spicing the sauce to match the known flavor.
In various sources, the spices for Flint Coney sauce simply specify "paprika". Most people don't realize there are numerous kinds of paprika available. If a cook happens to have the Hungarian style in their pantry and use it, the sauce will end up far too sweet. We specify the more savory Spanish paprika. Smoked Spanish paprika would also be an excellent choice, and may also be preferable to some.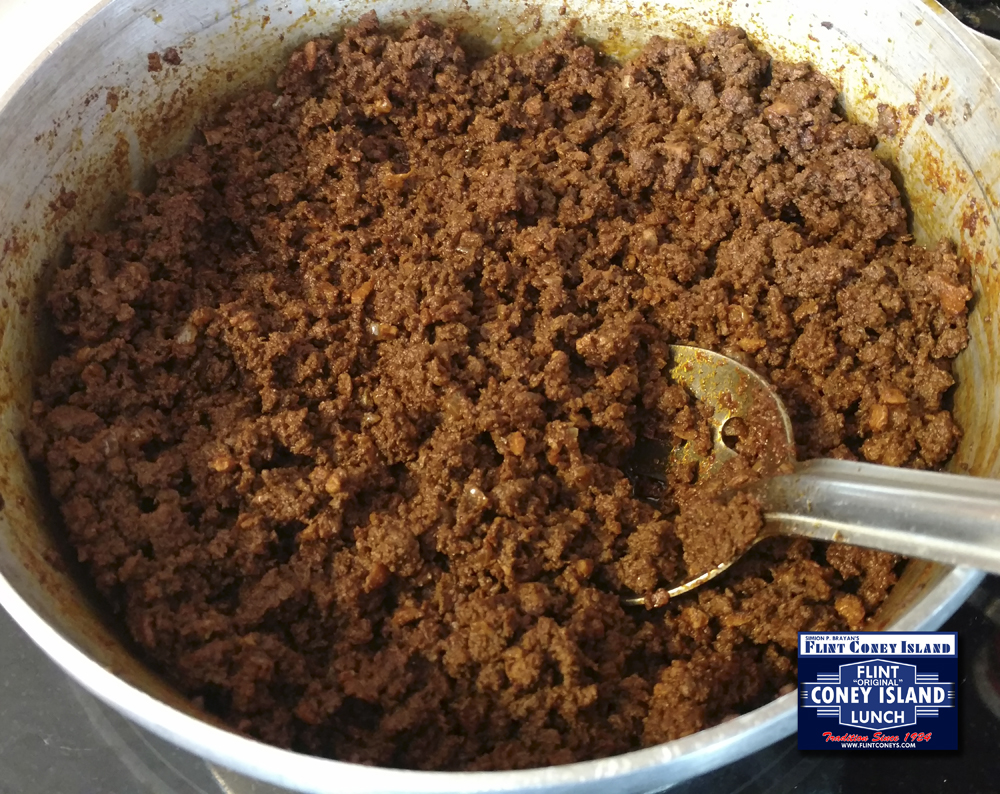 Basic Flint Style Coney Sauce
There's no one single recipe for Flint Coney sauce, as each restaurant prepares the ground beef heart from Abbott's their own way. This is our own version of the sauce, in a single recipe, for the stalwarts who want to try to do it all themselves.
Ingredients
1/2

each

Beef heart

generally 2 - 3 lbs

1

pkg

Textured vegetable protein

10 oz

1

cup

Shortening

rendered suet or tallow can also be used

1

White onion, medium

4

Tbsp

Spanish or smoked Spanish paprika

4

Tbsp

Cumin, ground

2

Tbsp

Chili powder, mild

8 - 16

oz

Beef kidney or ground beef

(optional)
Instructions
Freeze the beef heart (or thaw, if it's already frozen) to about 32°F, but to no cooler than that. Note: If adding the optional beef kidney or ground beef, freeze them them the same way.

Trim the harder fat from the frozen beef heart.

Cut the frozen heart into 1" slices.

Grind the beef heart it before it thaws too much. Note: If adding the optional beef kidney or ground beef, grind them in with the beef heart.

Put the ground beef heart into a freezer bag and distribute in the bag to an even thickness.

Refreeze the ground beef heart.

Follow the directions on the package for the textured vegetable protein to reconstitute enough to measure out one cup. Set the measured cup aside, and refrigerate any that's left for later use.

After making sure the heart is down to about 32°F again, remove the frozen ground beef heart from the freezer.

Grind the refrozen heart a second time.

Add one cup of the prepared textured vegetable protein to the meat and mix well.

Remove the onion from the fridge, mince it fine, and set it aside.

In a sauce pan, melt the cup of shortening over medium-high heat.

Sauté the minced onion in the melted shortening for about one minute, until the onion is translucent.

Reduce the heat to low, add the meat mixture to the sauce pan and blend well.

Simmer the sauce over low heat for 30 – 45 minutes, until the meat is tender but is also still slightly juicy.

Add the paprika, chili powder, and ground cumin into the meat mixture and stir well for even distribution.

Adjust the spices for personal taste as desired and simmer a bit longer before serving.
Notes
If you want to have some sauce ready for a quick preparation at a later date, stop the procedure right after adding the reconsitituted textured vegetable protein to the twice-frozen-and-ground beef heart, while it's still raw. Pack this mixture in reclosable quart freezer bags and freeze them. When you need some sauce, thaw a bag or two out, then melt your shortening, add the chopped onion, and make a batch.
Meat grinds best when it's been refrigerated below 35°F, with the fat grinding better when it's even partly frozen. This is one step in making meat dishes that most home cooks either miss or are unaware of. In fact, commercial meat grinders are regularly located within walk-in coolers to accomplish this, with the meat not leaving the cooler until the grind is complete. And since most home refrigerators are set between 34° and 38°F (or should be set there anyway), freezing the meat to the lower temperature in the freezer instead of the fridge gives a better grind, faster.