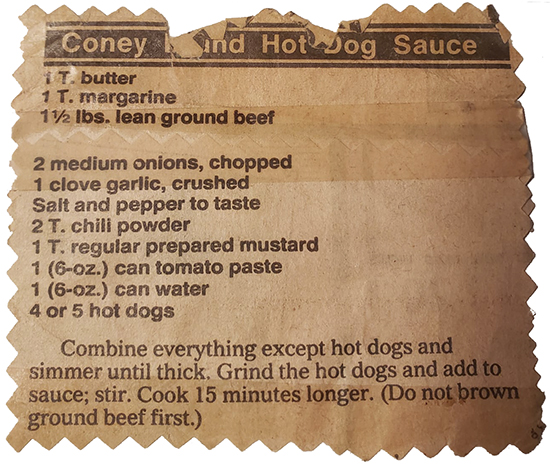 Scan of the recipe's first printing by Barbara Grant Boike.
On December 17, 2021, Barbara Grant Boike posted a scan of the first printing of the ground hot hot recipe to the Memories of Flint and Surrounding Areas Facebook group. The recipe was taped to a card. When I asked if there was anything on the back of the recipe that might suggest a date, she wrote "I got the recipe off the card & I have a note under that says, ANGELO'S/ Flint Journal, but no date. And I remember the Food Editor being Joy Gallagher." The rest of the piece, including the date printed and the context of the rest of Gallagher's writing surrounding the recipe, is still missing. But at least we now know what it looked like.
As the recipe is titled "Coney Island Hot Dog Sauce", I'm suspecting the context of the rest of the piece did not indicate this recipe was from Angelo's or any other Flint coney joint. If it were, it would nost likely have been titled as such. The title also doesn't include the word "original", as it seemed to in many subsequent printings, including Gallagher's own second printing on May 23, 1978.