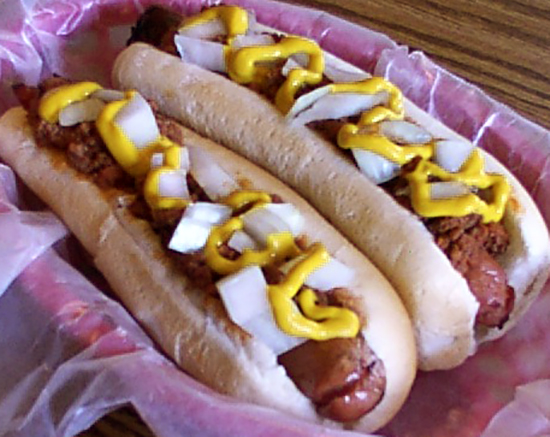 An updated version of the image from the MLive blog post from October 15, 2007.
In the manuscript for "The Flint Coney: A Savory History", I mention how I'd been working on the book in various forms for eight years (which is actually twelve years), and had written the Luna Pier Cook food blog beginning in 2006. But where the story itself is concerned, I definitely made some mis-steps along the way. Some of the work dates back earlier than those included dates and should probably be looked at, especially since those works are still on the web.
Back in October 2007 I attempted to branch out from the Luna Pier Cook blog by writing a separate blog for MLive which we titled "Michigan Appetite." MLive is a group of newspapers across the state of Michigan owned by a number of organizations over the years, currently Advance Publications/Booth Newspapers. The Michigan Appetite blog was to be in support of my broader efforts to identify and curate what I expected to call a "Michigan cuisine."
A post I wrote there on October 15, 2007, was titled "Recipe: 'Almost Flint-Style Coney Sauce', and Flint vs. Detroit Coneys." This was my first attempt to write what I thought was an honest look at the Flint Coney.
Unfortunately, I didn't even present that moniker correctly. "At one time, coneys made with Angelo's coney sauce were called Flint-style coneys, although I'm not sure that's true any longer." That was a serious gaffe, but frankly I didn't know what I was saying at the time. The entire piece also incorrectly presents Angelo's as the original Flint Coney location, which I know now was wrong by 24 years, as well as being more than two miles from Simion Brayan's location at 202 S. Saginaw St.
Even worse is this section:
if you head over to the Koegel Meats web site and search their Recipe page for the words "coney sauce" (minus the quotes) you'll currently find more than one version of this same recipe, each claiming to have been given to family members by someone who may or may not have been the person who developed Angelo's famous sauce.
(Note that the link originally went to a section on Koegel's site, but now goes to a Facebook recipes group they created.)
There are multiple problems with this paragraph:
The ground hot dog recipe in that post isn't how Flint Coney sauce is made at restaurants.
Angelo's isn't where Flint Coney sauce was developed.
Just because it's on the internet, even in a company-sponsored Facebook group, doesn't mean it's true.
It wasn't too long afterward that I began looking into the facts I'd been unaware of. On January 28, 2009, I wrote a post on Luna Pier Cook titled "Michigan's Coney Sauces: Beef Heart? Kidneys?? The Realities Await… ." While there's still a bit of misinformation in that particular post, including the fact that the recipe I included for a Flint sauce turned out to be inedible, it was at least a step in the right direction, far away from the MLive piece from two years earlier. On September 27, 2009, I then posted my first successful version of Flint Coney sauce containing both beef heart and kidney as "Recipe: Authentic-Style Flint Coney Sauce."
Mea culpa. Seriously.