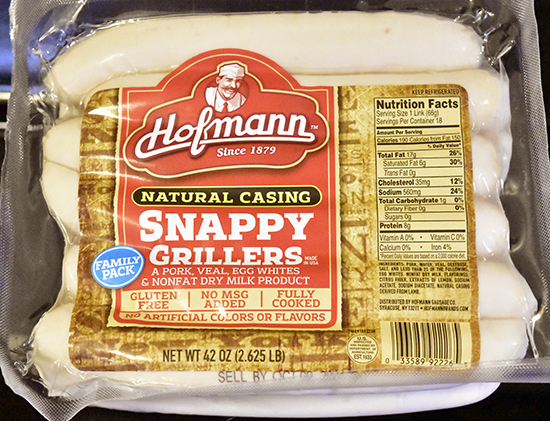 A package of Hofmann's Snappy Grillers, made in Syracuse, New York. I purchased this package at Wegman's in Liverpool.
Before Simion Brayan developed the Flint Coney prior to 1925, he had a hot dog in upstate New York with a sauce that he felt he could improve on. This is according to "Two To Go" published by the Genesee County Historical Society. Those authors reported that he ordered what was called a "coney island", then quoted Brayan as saying it was "practically tasteless … unfit for a young man whose palate was accustomed to the hardy cuisine of southeast Europe … They used ground beef, a little chili powder, a little paprika, but it had no taste." Thinking back to the Macedonian goulash he'd eaten back in Boufi, which contained beef heart and occasionally beef kidney, all in a beef suet base, he determined he could make a better coney sauce based on the heartiness of that Macedonian dish.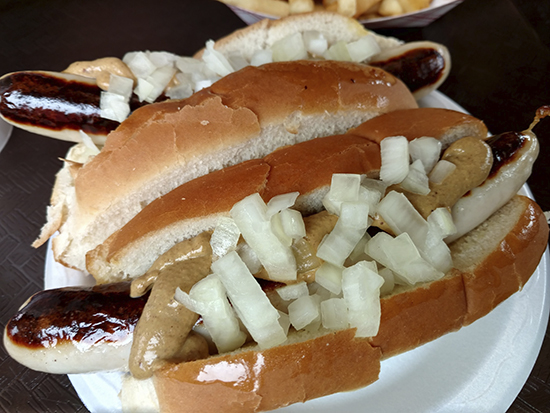 The Snappy Grillers as served at Heid's of Liverpool in New York, with their own spicy mustard, and onions.
The hot dog enjoyed most there in the Rochester region is known as the White Hot. One of its current iterations is the Hofmann Snappy Griller, which is a pork and veal frankfurter in a natural casing.
As my wife is a travel nurse, we're regular bouncing back and forth in various iterations from Wyoming to Maine. As our home is in Michigan, the drive to Maine, with breaks, can be done in one day, taking about 15 hours. We've now done this drive at least a dozen times.
The first time we did that drive in April of 2018, I was well aware of the story of Simion Brayan in that area. I had also located Heid's of Liverpool as a possible location where he may have eaten that "coney." So it came as a welcome surprise that I started seeing signs for Liverpool on the New York Thruway, especially since we were hungry. That was the first of many stops at Heid's over these few years. Heid's is almost exactly halfway through the trip, and we've only missed eating there twice, because of the pandemic. We always enjoy a couple Snappy Grillers there.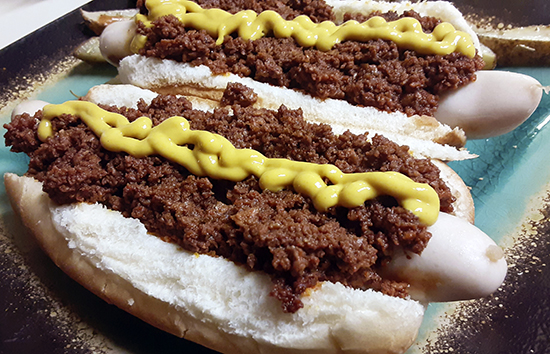 Snappy Grillers served with Flint Coney sauce, which I made on Nov. 15, 2021.
During one trip in early August of 2021, I made a side trip to the nearby Wegman's and found the package of Snappy Grillers in the top image. After their being in the freezer for a few months, and in the cooler, they made it hard-frozen across the country. One night in November, we had them in Grand Forks, North Dakota, topped with real Flint Coney sauce This sauce was made from Abbott's beef heart base spiced with Marty Embry's Flint Coney spice. (No onions because of a sensitivity in the house.) They turned out to be rather exceptional, and are something we would certainly enjoy again.