Ain't nuthin' else like 'em!
That thick, meaty sauce, the 'snap' of the coney dog's natural casing, the whole balance of flavors of beef, bun, onion and mustard … Beyond the rumors and folklore, learn the realities of what the Flint coney is, where it came from, where to get it, and a variety of tested recipes for making your own Flint coney sauce at home.
---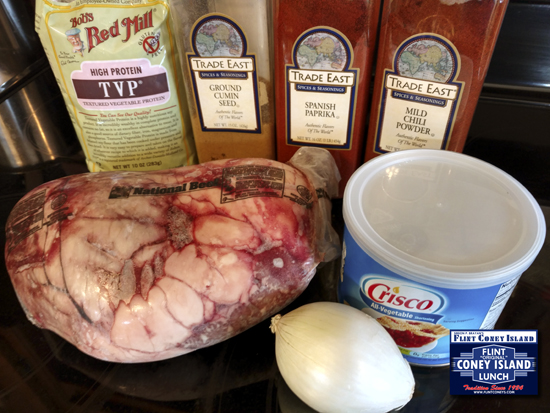 The ingredients in our basic recipe for Flint Coney sauce, starting with one whole beef heart.
There's no one single recipe for Flint Coney sauce, as each restaurant prepares the ground beef heart from Abbott's their own way. Click here for our own version of the sauce, in a single recipe, for the stalwarts who want to try to do it all themselves.
---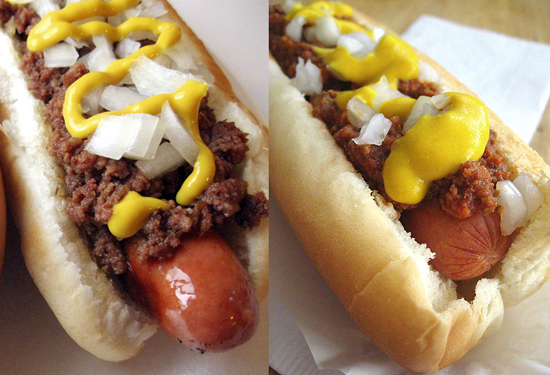 On the left is a coney topped with Angelo's actual sauce, while the coney on the right is topped with sauce made with Joy Gallagher's recipe containing ground hot dogs. The difference is quite visible, disproving the myths and folklore about this recipe.
No, your aunt or uncle did not get that folklore-laden gound beef and ground hot dog recipe from an owner or employee. That particular recipe was honestly never used in any Flint Coney restaurant. Click here to learn of the real history of that recipe, including the Flint Journal's debunking of it over the decades. You're also welcome to enjoy our version of that particular recipe.